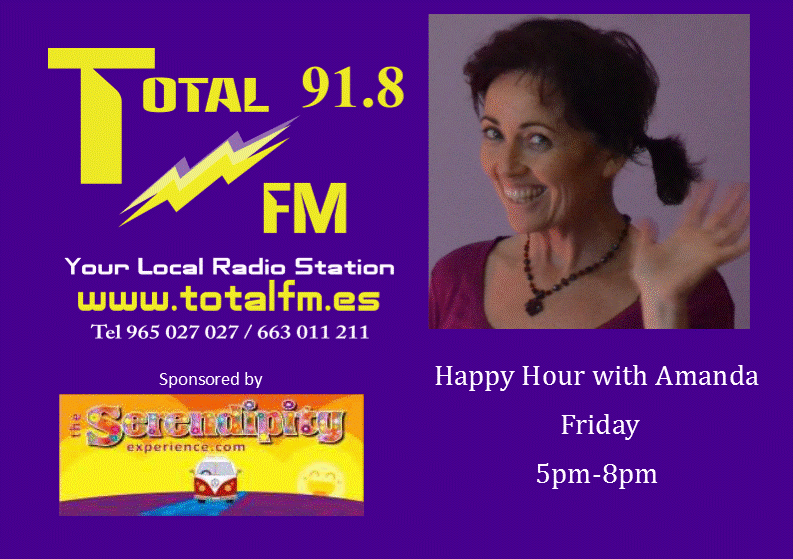 ---
Isn't it amazing how life works. The serendipity-ness of life never ceases to amaze me.
A little while ago I was invited onto a local radio show (Total fm), as a guest to be interviewed by the lovely Gill Henry. Gill presents 'The Ladies are loose at the weekend'. It's kind of like the Loose Women show on TV. I was promoting the services of Serendipity and chatting about life in general.
I was invited back to be a co-presenter on Gill's show a few months later and that was really fun! Again I was just talking about my understanding of life, peace & love and all that malarkey.
The next time I saw the owner of the radio station, he said we needed to talk. The kind Chris Williams was excited to offer me my own radio show on Total fm, WOW!
How does that happen? Chris said that he could really feel the love behind the words when I was being interviewed on Gill's show. He said he could feel the smile behind the voice. How cool is that?
It blows my mind that you're just telling your story, doing your thing, sharing an understanding and it resonates so highly with somebody else that it touches them in their own special way, I just love that.
Most of you know that I am not shy of talking. Some folk might even say that I talk too much, ha ha. Well, as McFadden and Whitehead said, there 'Ain't no stopping us now'.
Fancy that lil' ol' me, on the radio. So there's the story 'Morning glory'.
I am truly grateful for the opportunity that Chris has gifted me with. So I inviteyou all to listen in every Friday to the new show titled 'Happy Hour' with DJ Amanda. What a laugh!
This is a 3 hour show 5 – 8pm Spanish time ( U.K. time 4 – 7pm). Here's the plan, we kick off with some happy tunes, be sure to Turn on, Tune in and Drop out to the hits of the swinging 60's & 70's. Then we slow it down, mix it up and play all your requests, so remember to get them in early and I'll give you a mention.
Thank you to everybody who has listened in so far. They say, whoever they are, that we learn from our mistakes and I have certainly made a couple of those in the first few shows. I managed to play 2 songs at the same time, cut in on the adverts, get bumped off by the news and I even left my microphone on 3 times!!! Anyway, it happens to the best of us.
It reminds me of learning to drive for the first time, so many things to take on board all at once. The word overwhelming springs to mind. That first session felt like I had been placed on the motorway in the middle of a storm with the window wipers going, hazards on and cars flying at me in all directions. Get my drift?
You can tune in locally, here on the Costa Blanca on 91.8 fm. Also from anywhere in the world with an internet connection via the Total fm website or through the tune in app on your smartphone. Let me know if you are listening in and send your requests in via facebook or email me.